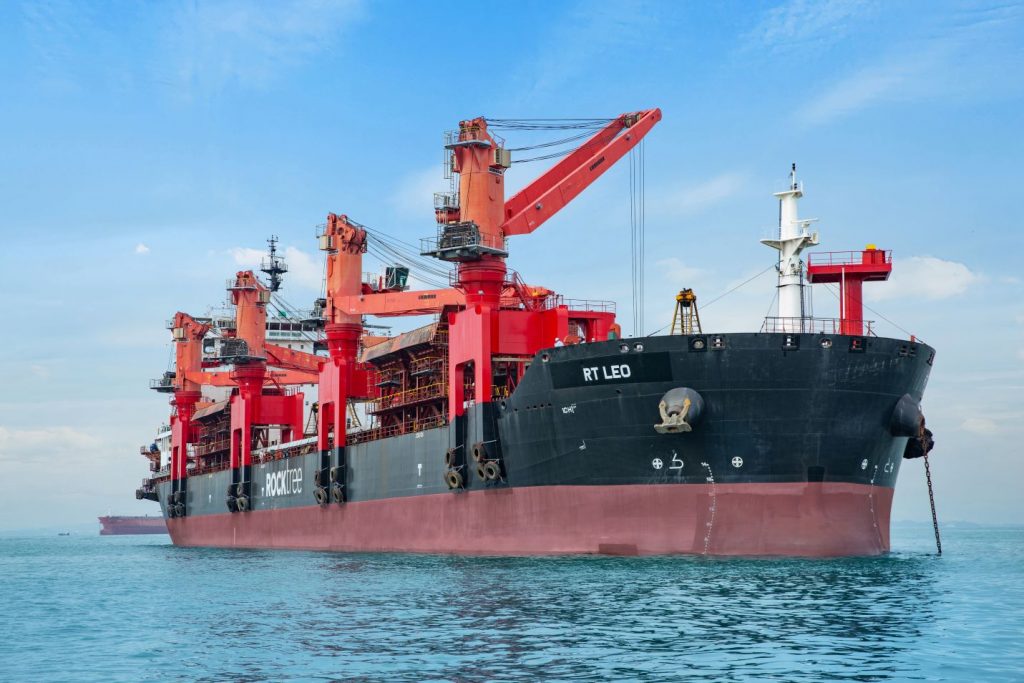 A need for reliable data synchronisation over multiple systems first led Rocktree to GTMaritime, but the floating terminal operator now has much larger digital ambitions in its sights.
With a fleet of six Offshore Floating Terminals (OFT), the Singapore-based transhipment company specialises in the offshore loading of dry-bulk products from barges to bulk carriers at ports with draught restrictions and/or infrastructure limitations.
Essentially, an OFT performs the same functions as a permanent land-based terminal but this approach is considerably less capital intensive, quicker to design, construct and mobilise than a fixed terminal. And in an age of growing environmental concern, the OFT has a measurably smaller impact on local marine and coastal ecosystems, requiring limited or no dredging before opening for service.
Rocktree OFTs have allowed its clients to bypass the infrastructure challenges associated with ports in emerging markets. Even where infrastructure is not an issue, they provide a fast and cost-effective alternative to ports subject to draft restrictions. Currently, these floating terminals have some 30 workstations and services running onboard.
Rocktree relies on Office365 email and a host of enterprise-grade software for maintenance planning and compliance, safety and accountability in its operations. It is also exploring the possibilities of Internet-of-Things (IoT) solutions as it seeks to reduce downtime and maximise the productivity of its assets.
Yet, while its OFTs are moored close to the shore, they have often struggled to get online when using internet and WIFI services from land-based ISPs. This is largely due to the location and signal strength of the local communications infrastructure. The problem was solved when Rocktree rolled out satellite based VSAT systems onboard its OFTs to handle data exchange across a VPN tunnel between its sites and its headquarters in Singapore.
However, the migration from patchy land-based telecoms to satellite brought its own set of challenges. For example, real-time data handshakes between the planned maintenance system did not work efficiently and the IT team often had to intervene and manually transfer data ashore. An in-house developed fix for the problem did not perform reliably enough for personnel to feel comfortable leaving the system unattended.
Rocktree's IT and technical teams set about researching the market for a more effective and lasting data communication solution, with recommendations from its own employees and trusted IT vendors resulting in a decision to implement a package solution from GTMaritime, comprising GTMailPlus, GTSentinel Antivirus and GTRAFT. The latter allows data file transfer, remote folder synchronisation and system monitoring to be fully automated and controlled centrally, removing the need for input from the crew.
Initial planning and preparation for the roll-out started in November 2018. With assistance from GTMaritime's technical support team and an experienced vendor, Precision Infocomm, everything was up and running within just six months. By June 2019 the system went live and Rocktree was successfully delivering mail through GTMailPlus and replicating data between the maintenance, quality assurance and other systems unattended through GTRAFT.
While cost-saving was not an explicit goal of the project, Rocktree believes the migration to GTMaritime has paid for itself many times over in man-hours and stress saved when compared to manually transferring data, as well as allowing the company's applications to operate as they should.
A reliable, robust and easy-to-manage solution helps across the company, de-stressing the IT and technical teams by relieving them of the pressure of having to drop everything and intervene to carry out what should be routine data synchronisation. Moreover, the ability to monitor the status of all its OFTs from a single unified dashboard makes managing updates and workflow more straightforward and less resource intensive than was previously the case.
The reaction from HSEQ, crewing, procurement and other operational and back-office functions needed to keep Rocktree's OFTs ticking over has also been overwhelmingly positive.
"Working closely with the team at GTMaritime allowed us to roll out the full solution quickly and efficiently. This has meant that staff has been able to experience the benefits straight away, saving time and costs as well as simplifying the process to easily and centrally manage all the file transfer jobs."
 Zoeb Patrawala, Senior Manager Digital Technology and Solutions at Rocktree
Although Rocktree initially approached GTMaritime to solve a specific challenge – namely, unattended data synchronisation – it is now carrying out a comprehensive review of its IT strategy with a view to extracting the full potential of what GTMaritime solutions have to offer.
One idea currently on the table is to send images from the nine CCTV cameras fitted on each OFT back to its Singapore headquarters. Apart from transforming the oversight and accountability the company can provide to its clients, this would allow management staff to take a more proactive role in responding to unexpected and rapidly unfolding situations.
Looking further ahead, Rocktree sees considerable potential in adopting IoT solutions coupled with advanced data analytics to further optimise the operation of its floating terminals. Because releasing the value of such technologies depends on ubiquitous connectivity allowing an almost constant stream of data to flow between vessels, shore and the cloud, such investments can only be justified if a resilient communications infrastructure is in place. With GTMaritime as its long-term partner, Rocktree believes that condition has been met.
Key benefits GTMaritime brings to Rocktree
Hassle-free, resilient vessel/shore communication
Reliable data replication with minimal manual intervention
Enhanced visibility on network status across the fleet
Straightforward installation of systems on newly acquired vessels
About Rocktree
Singapore headquartered Rocktree Group works with companies in the water-borne dry-bulk supply chain, providing tailor-made, innovative, practical logistics solutions to improve the efficiency and reliability of its clients' shipments.
For more information, please visit Rocktree website at http://www.rocktree.sg