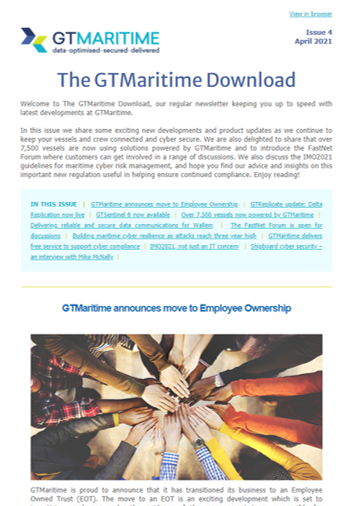 Welcome to The GTMaritime Download, our regular newsletter keeping you up to speed with latest developments at GTMaritime.



In this issue we share some exciting new developments and product updates as we continue to keep your vessels and crew connected and cyber secure. We are also delighted to share that over 7,500 vessels are now using solutions powered by GTMaritime and to introduce the FastNet Forum where customers can get involved in a range of discussions. We also discuss the IMO2021 guidelines for maritime cyber risk management, and hope you find our advice and insights on this important new regulation useful in helping ensure continued compliance. Enjoy reading!
GTMaritime announces move to Employee Ownership
GTMaritime is proud to announce that it has transitioned its business to an Employee Owned Trust (EOT). The move to an EOT is an exciting development which is set to incentivise employees under the guidance of the management team responsible for establishing GTMaritime as a leading provider of secure data communications software to the shipping industry. The structure of the trust enables existing and future employees to become direct beneficiaries of the company's continuing success. READ MORE
GTReplicate update: Delta Replication now live
GTReplicate allows changes made to master files and documentation onshore to be replaced or updated across the fleet using GTMaritime's secure and efficient FastNet platform. Without the need for crew intervention, GTReplicate now includes Delta Replication functionality which ensures only the amended data is transferred to the vessel. for continued compliance with guidelines and regulations. WATCH NOW
GTSentinel 8 now available
To keep up to date with the cyber threats that the maritime industry is facing we have released GTSentinel 8, the latest version of our comprehensive maritime antivirus product. GTSentinel is an all-embracing antivirus solution, optimised for the maritime market and designed to protect the vessel whilst minimising the impact on communication networks. GTSentinel utilises the well-respected and industry leading endpoint antivirus solution from ESET. READ MORE
Over 7,500 vessels now powered by GTMaritime
More than 7,500 vessels are now using solutions powered by GTMaritime. We understand the challenges of staying connected safely at sea and offer a range of secure solutions with our FastNet platform ensuring your vessel is always connected. In the last month 19,198 unknown malware attacks have been blocked by our Advanced Threat Protection, which equates to one in every 822 emails received. WATCH NOW
Delivering reliable and secure data communications for Wallem
Secure and reliable ship to shore communication is essential for exchanging data and managing operations. GTMaritime recently provided a complete communications package to support the deployment of Wallem Group's new fleet operations solutions, enhancing the user's overall data communications experience and security. READ MORE
The FastNet Forum is open for discussions
We are delighted to have launched the FastNet Forum which is available for all GTMaritime customers and resellers of products Powered by GTMaritime. The FastNet Forum is a place for independent discussion on maritime digitalisation and welcomes open dialogue on all ideas and topics. READ MORE
Building maritime cyber resilience as attacks reach three-year high
The IMO guidelines on maritime cyber risk management provide the basis for a safer, more secure and resilient cyberspace for shipping operations. With the new IMO2021 regulations now in effect, Jamie Jones, Operations Director at GTMaritime, explains why vessel owners must act without delay to ensure cyber-security is incorporated in their ISM Safety Management Systems. READ MORE
GTMaritime delivers free service to support cyber compliance
As shipping lines grow ever more reliant on digital links to shore, GTMaritime has released Compliance Maintenance, a new service for customers that provides the option of automatically keeping GTMaritime software used onboard up-to-date to ensure that owners are constantly compliant with IMO cyber-security guidelines. READ MORE
IMO2021, not just an IT concern
IMO2021 came into effect on 1 January and it is vital that ship owners and managers continue to monitor the systems and processes in place to ensure vessels remain cyber secure. Our Global Commercial Director, Mike McNally, discusses what shipping companies can do to ensure cyber security and remain compliant with new regulations. READ MORE
Shipboard cyber security – an interview with Mike McNally
In February, our Global Commercial Director Mike McNally, was interviewed by Cyprus Shipping News where he discussed shipboard cyber security, IMO2021 and the evolution of cloud-based services in the maritime industry. READ MORE
This email was sent from #[CAMPAIGN:SENDER_NAME]# to #[EMAIL]#.
#[LIST:COMPANY]# | #[LIST:ADDRESS]#