GTMaritime Achieves Focus Tier Status in CrowdStrike Powered Service Provider Program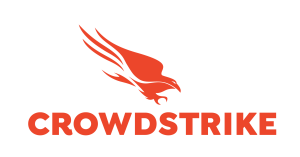 GTMaritime, a leading provider of secure maritime data communications solutions, has announced it has joined as a Focus partner in the CrowdStrike Powered Service Provider (CPSP) program. CPSP partners deliver services underpinned by the CrowdStrike Falcon platform and provide expertise and resources to enable organizations to stop breaches.
GTMaritime joins a group of CPSP partners who have met the Focus requirements of the CPSP program. Focus CPSP partners can choose to incorporate CrowdStrike package bundles or individual CrowdStrike Falcon platform modules into their security offerings.
GTMaritime's extensive technology services and solutions, built on the CrowdStrike Falcon platform, ensures regulatory compliance and protects ships from known and unknown malware and zero-day threats. The CrowdStrike Falcon platform is available from GTMaritime with two options (packaged Falcon bundle or individual Falcon modules) to fit customer requirements. It can include additional Security Operations Centre (SOC) services from GTMaritime to assist users with International Maritime Organization (IMO) compliance, while also offering access to the company's 24/7 support team.
"As a Focus CPSP partner, GTMaritime is dedicated to helping organizations reduce cost and complexity by consolidating point products," said Richard White, Global Commercial Director at GTMaritime. "We are delighted to be working with CrowdStrike and be in a position to deliver one of the most advanced cybersecurity platforms to the shipping industry. As cyberattacks continue to evolve and become increasingly sophisticated, it's vital that ship owners and managers are equipped with the most advanced solutions to track and identify threats and protect ships and connected infrastructure."
Partners and customers are leveraging the CrowdStrike Falcon platform to consolidate their security stack and save on operational costs. They want to easily and cost-effectively protect the broader attack surface including the endpoint, cloud, identity and more. As such, CrowdStrike is best-positioned to meet the needs of security platform consolidation for partners and customers with a single, lightweight agent, cloud-native architecture, integrated threat intelligence and elite human expertise.
Click here to find out more  or if you would like toarrange a demo
GTMaritime Attracts New Talent as Demand for Data Services Soars
Leading provider of secure maritime communications software, GTMaritime, has made three new appointments in response to rapidly rising demand in data traffic.
Fast-climbing demand for secure data communications between ship and shore has prompted GTMaritime to make three new staff appointments, each designed to overcome a specific challenge brought by the maritime industry's digital transformation.
With its solutions and services already a feature on board over 13,500 vessels worldwide, GT Maritime has been a key player in enabling maritime digitalisation through the provision of cyber secure data communications.
As part of its strategy for continued growth, the company has Anthony O'Hagan to the newly created role of Business Information Analyst. Taking ownership of GTMaritime's commercial and operational datasets, O'Hagan has been tasked with their consolidation within a central database. Once completed, the resource is expected to offer new and original tools to support actionable, data-driven decision-making in communications.
In a second appointment, Daniel Doyle has joined GTMaritime as User Interface Designer, in a role which is also new for the company. Doyle has been tasked with enhancing the design of user-centric front-end solutions for new and existing GTMaritime products, working alongside fellow developers, external designers and the wider GTMaritime team to coordinate application design and functionality.
Meanwhile, Antonis Kalaitzis has joined GTMaritime as Technical Sales Engineer, in a specialised technical support role based in Greece which responds to rising regional demand. Kalaitzis brings with him a wealth of experience in computer technology and maritime satellite communications.
Chris Judge, Managing Director at GTMaritime, said: "As maritime digitalisation steadily progresses and data plays an increasingly important role in vessel operations, there is a growing need for secure, reliable data communications services at sea. The addition of three talented and experienced new team members reflects our commitment to continuously improving and updating our solutions in line with the industry's present and emerging requirements."
The latest expansion of the GTMaritime team is part of the company's ongoing investment in talent as it enhances its product development and support expertise. In August 2022, GTMaritime announced the appointment of Patrick Berry as Junior Software Developer and Joseph Burthem as Customer Support Specialist.
GTMaritime Customer Congress. September 2022
GTMaritime Customer Congress: Product Development Driven by Customer Feedback
 The amount of data being transferred between ship and shore came into sharp focus at GTMaritime's recent inaugural Customer Congress, as the leading maritime communications solutions provider offered an insight into traffic handled over the last year. Over a 12 month period, GTMaritime said there had been a 28% increase in the volume of emails it processed each month with the average size of emails increasing by almost 40%.
With ships more reliant on smooth data transfer than ever, managing multiple ship software upgrades can be challenging and time consuming. For this reason, GTMaritime Operations Director, Jamie Jones, told the Congress audience, coinciding with SMM Hamburg, that GTMaritime had moved decisively towards scheduling its updates to ensure continuity of service.
"Keeping software up to date is vital for cybersecurity and to ensure that the user isn't missing out on the latest functions.  Over 500 items were developed by GTMaritime in the last year. In the past, releases took place every six months but that meant too many changes in one go. Now, we issue updates on a scheduled basis every week to ensure products are secure and that the full benefit of new features is realised.
"With weekly releases, there are fewer items; if there is an issue, it can be pinpointed and fixed quickly."
Over the last 12 months, GTMaritime has continued to experience growth across the business. It now has 30 employees worldwide with offices in the UK and Singapore and GTMaritime solutions are installed on over 13,500 vessels.
"This is down to the relationships we have with our customers, through listening to their requirements and working together to create solutions," commented GTMaritime CEO, Robert Kenworthy.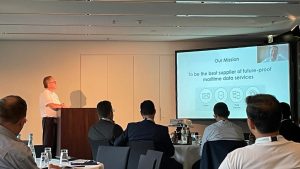 Customer driven product development
 Product development at GTMaritime is primarily driven by customer needs and feedback, and this – in turn – has been shown by the priority given to the upgrade and update process.
Rob Preston, Senior Technical Sales Engineer at GTMaritime told Congress participants that GTDeploy had been developed to take the pain out of deploying software updates. It allows IT managers to simply deploy software updates to remote locations. Operated over GTMaritime's FastNet data transfer platform, GTDeploy optimises data streams between ship and shore while also being able to handle drop points in connectivity, fully encrypt downloads, split-up large files, rebuild and conduct integrity checks to verify the file is whole.
In an example, Rob said that up to 32 hours could be saved when using GTDeploy and Compliance Maintenance, GTMaritime's patch management solution that is available free of charge to customers and automatically updates GTMaritime software.
 The key role customer feedback plays in product development was also in evidence in an exploration of training requirements from Tracey Kelly, Customer Operations Manager, GTMaritime.
"We understand how frustrating it is when things aren't working or when customers don't know how to do something," she told the Congress audience. "However, these types of incidents also help us to identify training requirements and to support customers further; we have a range of additional resources available including service operations manuals and knowledge-based articles. Part of our role is to educate customers and partners so they can learn how to fix issues themselves."
In the not-so-distant future, GTMaritime is looking to introduce a new service desk tool and integrated chat function to enhance customer support in addition to a new training platform and improved product documentation. It will include a range of resources such as videos, articles on how to use products, as well as sales and marketing information for resellers
"We want to ensure partners and users have a thorough knowledge of our products and services, with a bite-size modular approach in the form of videos. Each product will have its own post with various levels of training available," explained Product Specialist, Jigar Shah.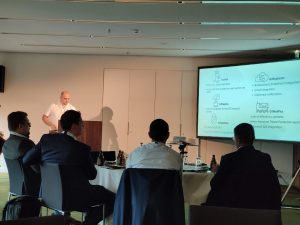 Looking Ahead
A roadmap showed the volume of updates that have been implemented to support continuous growth, particularly for mature products, with product unification to provide customers with a consistent experience and focus over the next 12-18 months. Other points on the roadmap included:
FastNet is still in its early life, but efficiency improvements have been put in place to make it more robust. Going forward the product development team are looking at making the platform connection 'aware', so customers can control what data is sent over which connection.
GTReplicateGTReplicate has been extremely successful and the key focus for development has been around integration. This year saw the introduction of email integration and future developments will focus on further integrations and data transfer enhancements.
GTDeploy is also still in its early life, but there are some exciting developments planned, including Microsoft updates.
Almost half of the development items have been focused on GTMailPlus with many efficiency improvements released. A new advanced threat protection service was added to provide protection to users who are not protected by traditional threat protection, and a Microsoft 365 integration was also delivered. Next, GTMaritime is looking at merging GTSeaMail with GTMailPlus and introducing a range of email packages.
For more information on GTMaritime full range of data communications solutions, click here.
GTMaritime appoints Richard White as Global Commercial Director
We are pleased to confirm that Richard White has joined GTMaritime as the Global Commercial Director and will be responsible for overseeing GTMaritime's global sales and marketing network.
Richard will be taking over from Mike McNally, who has been an integral part of GTMaritime's growth over the last 4 years as we now deliver solutions to over 12,500 vessels worldwide. We would like to thank Mike for his service to GTMaritime and wish him all the best for the future.
Richard brings a wealth of leadership experience, with over 16 years in the maritime industry and more than 20 years in senior management. As well as developing digital strategies and solutions in their own right, he has made a speciality of developing organisations to support implementation.
Before joining GTMaritime, Richard simultaneously held the positions of Group Chief Information Officer at Clarksons Platou, and Chief Technology Officer at Sea/ by Maritech where he led the development of bespoke software solutions for the shipping sector and oversaw the digital transformation of the Clarksons service portfolio.
Robert Kenworthy, CEO, GTMaritime commented: "We are thrilled to welcome Richard to GTMaritime. Richard has a proven track record of delivering transformational change in the industry and is an expert in the field of maritime software. As GTMaritime continues to grow, we are delighted to have him on board to consolidate GTMaritime's position as the go-to provider for maritime data communications solutions."
Richard said: "GTMaritime is known throughout the industry for its quality maritime software solutions and high levels of customer support. I'm delighted to join the GTMaritime team at such an exciting time for the industry as it continues to embrace digitalisation and new ways of working. I'm looking forward to supporting customers with their digital strategies and helping to take the GTMaritime business to the next level."
If you have any questions for Richard, or would like to get in touch to discuss any of our solutions and services please get in touch
GTMaritime move offices in Singapore
Our team in Singapore have moved to new offices, bringing us closer to our customers and putting us at the heart of maritime in Singapore.
Our new address is
GTMaritime, 3 HarbourFront Place
HarbourFront Tower 2
Level 11
Singapore 099254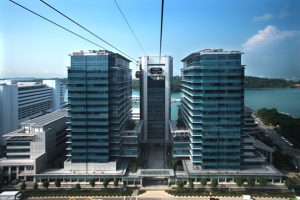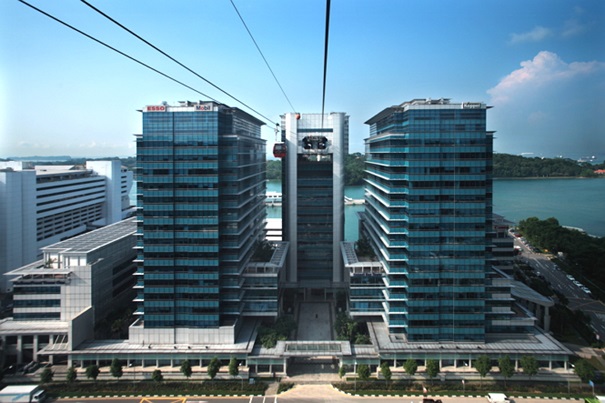 Our telephone numbers remain the same;
Sales: +65 68714820
Support: +65 68714821
GTMaritime celebrates 10,000 vessel milestone
Leading provider of secure maritime data communications software, GTMaritime, has passed the 10,000-vessel installation milestone, as worldwide demand for secure and reliable maritime software-based solutions continues to grow.
GTMaritime customers now include some of the largest ship owners and operators in the world with increasing data traffic moving between ship and shore driving a surge in installation requests over the last 12-months.
Jamie Jones, Technical Director, GTMaritime, said: "Over the last year in particular, vessels have been dealing with greater volumes of data – a trend we expect to continue – and there has been heightened awareness of cyber security issues following the introduction of IMO2021. Customers are looking for solutions that are secure, can handle increased data loads and are easy to integrate into vessel operations.
"We understand the growing need to stay connected at sea and continuously develop our services and solutions to deliver reliable, secure, and easy-to-use data services."
GTMaritime offers ship owners and operators a suite of future-proof data communications solutions such as email, endpoint antivirus, data replication and software deployment which have been specifically developed to overcome the challenges of remote connectivity. The company has also created its own multi-stream data transfer platform, FastNet, to optimize secure data exchanges between ship and shore and provide the core of all GTMaritime solutions going forward.
"We are extremely proud to be the data transfer solutions supplier of choice for so many vessels worldwide, and to have GTMaritime products installed on over 10,000 vessels is testament to the hard work and dedication of the GTMaritime team," said Rob Kenworthy, CEO, GTMaritime.
"GTMaritime has evolved over the last two decades with the demands of the shipping industry and I'd like to thank our customers for their continued loyalty, but also our partners and resellers for their support and the important role they have played in reaching this milestone."
GTMaritime saves time with GTReplicate V2 ship-shore file share launch
Leading provider of secure data communications software to the shipping industry, GTMaritime, has launched a new version of GTReplicate, as part of its continuous evolution of solutions to meet specific customer needs.
By enabling the replication of data between ship and shore, GTReplicate offers proven and significant reductions in administration time and cost for IT departments, based on capabilities built into  GTMaritime's FastNet data transfer platform. The company recently added the SharePoint integration function Cloud Bridge, so that GTReplicate users can also gain access to cloud-based storage facilities.
Based on user experience, GTMaritime is now ready to unveil GTReplicate V2, whose reinforced security and in-service stability are included in a range of enhancements designed to accelerate uptake.
The additional product features available from GTReplicate V2, include:
Email integration – customers can now define replication jobs that send or receive data from email sources
Pre/post job commands – define commands to run before and after data replication to control other applications
Post task copy – the ability to move data to another location or archive following replication
Variables – define variables against vessels which can be built into job definitions for simpler configuration
Data transfer monitoring – monitor the status of data transfers from the GTReplicate dashboard
Email notifications – customers can now activate email notifications to receive updates on job events such as transfers or errors
Intelligent data syncing – when replacing other solutions, GTReplicate can validate existing data in the target location, and will only transfer data that has not already been replicated.
GTRAFT Migration – now able to replace all the functions of our legacy product, GTRAFT, and so much more…
GTMaritime Global Commercial Director, Mike McNally, said: "At GTMaritime we always put the needs of our customers first and we are continuously developing and improving our solutions to address both customer and industry needs as they evolve.
"GTReplicate V2 is a smart solution which allows IT managers to configure, monitor and execute simultaneous file transfer solutions; its powerful scheduler allows necessary tasks to be executed without human intervention. As part of our continuous product improvement process, we have added a host of new features to the GTReplicate product roadmap to further support our customers operations, and deliver greater control, security and flexibility."
GTMaritime Download. Issue 6
GTMaritime Cyber Security Survey | GTMaritime launches Cloud Bridge | A Guide to Maritime Communications | Smart4Sea Cyber Security Award
Welcome to The GTMaritime Download, our regular newsletter keeping you up to speed with the latest developments at GTMaritime. 

Enjoy reading!
GTMaritime Cloud Bridge integrates storage for GTReplicate
Users of GTReplicate can now benefit from SharePoint functionality, as we continue to roll out further product enhancements to improve ship-to-shore communications and fleet wide data management. This is the first step in delivering full cloud storage integration, providing customers with connections where they need them.

The new feature allows users to seamlessly integrate existing operational processes and synchronise data between SharePoint and vessels using GTReplicate, and upload data directly to SharePoint. Cloud storage integration within GTReplicate removes the time lags that can occur when IT departments alone are responsible for file transfers. Instead, remote employees can now send and receive data to and from vessels wherever they are, without needing support to transfer files on their behalf.

FIND OUT MORE ABOUT CLOUD BRIDGE INTEGRATION WITH GTREPLICATE
A Guide to Maritime Communications, an insight into the future
A must-read for ship owners and operators, The Guide to Maritime Communications examines the topic of modern marine communications from a variety of perspectives.

Beginning with a look at satellite communications infrastructure, it goes on to explore how various aspects of ship operation from safety to crew welfare are benefiting from access to fast and reliable communications networks. The Guide also looks at how the digitalisation of shipping is being enabled and how performance monitoring has expanded into remote operation and assistance, on a road that could see autonomous ships plying the oceans in the not-too-distant future.

DOWNLOAD YOUR COPY
GTMaritime Cyber Security Survey
To understand how the cyber security landscape is changing in response to increased digitalisation, we would like to invite you to take part in our cyber security survey.

The purpose of the survey is to enhance understanding of how cyber-security threats are evolving for clients and how they are impacting the maritime sector to identify any new trends.

The survey is completely anonymous, so you do not need to provide your name or company to take part and no individual information provided will be shared.

CLICK HERE TO COMPLETE THE SURVEY
GTMaritime Shortlisted for Smart4Sea Cyber Security Award
We are delighted to announce that GTMaritime has been shortlisted for the Smart4Sea Cyber Security Award! Recognising organisations that have provided a significant achievement, breakthrough or contribution in any aspect of cyber security in shipping, GTMaritime has been nominated for its intelligent and innovative data transfer platform FastNet.

VOTE FOR GTMARITIME HERE
Open to all maritime professionals, the FastNet Forum is creating a digital community where members are invited to discuss a range of maritime digitalisation topics. As well as offering FastNet data platform updates, it allows members to exchange ideas, raise challenges and propose solutions, and to ask digitalisation-related or GTMaritime-specific questions.
Over the last couple of months, the GTMaritime team have been enjoying some time out of the office at a number of industry events including the Cyprus Shipping News ICT Conference, the first Smart Maritime Network Dubai in November, and Workboat International in New Orleans earlier this month. These events were a fantastic opportunity to meet with customers and our industry partners, to discuss plans for next year and the latest updates from GTMaritime.

Upcoming events
SMN Singapore, 26 January 2022
SMN Rotterdam, 16 February 2022
SMN Athens, 5 April 2022
For further information please contact:


Alexandra Collins​
Marketing Manager, GTMaritime
+44 (0) 1925 818918
Alexandra.Collins@GTMaritime.com
www.GTMaritime.com


Amanda Buchan
Account Manager, JLA Media
+ 44 (0) 7487 802 818
amanda.buchan@j-l-a.com
www.j-l-a.com
 
GTMaritime Christmas Charity Donation
As has become our tradition at GTMaritime, in lieu of Christmas gifts, we will be making donations to three maritime charities on behalf of our customers.
The three charities we will be supporting this year are;
Each of these charities plays a vital role in supporting the men and women working hard at sea.
To find out more about these charities, and the work that they doing, click on the links below.