GTMaritime Download 9
Welcome to The GTMaritime Download, our regular newsletter keeping you up to speed with the latest developments at GTMaritime. Enjoy reading!
GTMaritime joins CrowdStrike Powered Service Provider programme
GTMaritime has joined the CrowdStrike Powered Service Provider (CPSP) programme as a Focus Partner and can now choose to incorporate CrowdStrike package bundles or individual CrowdStrike Falcon platform modules into its security offerings.
Underpinned by the CrowdStrike Falcon platform, GTMaritime's range of technology services and solutions ensure regulatory compliance and protect ships from both known and unknown malware and zero-day threats.
GTMaritime CEO receives 2023 SMART4SEA Leadership Award
GTMaritime Founder and CEO, Rob Kenworthy, picked up the 2023 SMART4SEA Leadership Award at the virtual ceremony in February. The award recognises the pivotal role Rob has played in the development of maritime data communications. Rob has been at the helm of GTMaritime since it was established in 1998, and has overseen the company's growth into one of the leading providers of secure maritime communications software.
GTMailPlus Version 4 now available!
The latest version of GTMailPlus is now available following further enhancements to GTMaritime's market leading email solution. The new Version 4 release specifically addresses the escalation in cyber security and network stability needed as ship to shore integration becomes increasingly seamless due to the advancements in Low Earth Orbit (LEO) communications.

GTMailPlus Version 4 has been specified and tested to work in the new era of satellite communications. Its advanced network switch capability allows reliable, secure and seamless email delivery whether using LEO networks, VSAT or low bandwidth connectivity to ensure users remain operable when working in a hybrid scenario.
GTMaritime attracts new talent as demand for data services soars
Fast-climbing demand for secure data communications between ship and shore prompted GTMaritime to make three new staff appointments earlier this year, each designed to overcome a specific challenge brought by the maritime industry's digital transformation.
With its solutions and services already a feature on board over 14,000 vessels worldwide, GTMaritime has been a key player in enabling maritime digitalisation through the provision of cyber secure data communications.
Solution spotlight – GTMailPlus
GTMailPlus is a cutting-edge maritime email service that has been designed specifically to meet the needs of the shipping industry. Fully optimised for use with maritime satellite communications, GTMailPlus is a secure, stable, cloud-based maritime email service which includes a suite of applications to help protect assets and crew from cyber incidents. Functions include anti-phishing, spam management, advanced threat protection and many other security features as standard.
GTMaritime also offers customers free phishing penetration tests to help ensure all users know how to identify and respond to a phishing attack.
Are you up to date with the latest cybersecurity guidelines?
With cybersecurity threats on the rise and ships becoming increasingly connected, GTMaritime has published a free guide to highlight some of the problems that can occur when using the equipment and operating systems found on ships. As well as deliberate cyberattacks, it considers how even supposedly safe and routine tasks – such as system updates – can create difficulties onboard.
Cyber risk management for Safety Management Systems
While the IMO rules related to cybersecurity may not be mandatory, there are many individual flag and port states that require shipping companies to address cyber security in their Safety Management Systems. In a new article, GTMaritime sets out the steps companies need to go through to devise and incorporate a robust cyber risk management plan for their vessels.
Upcoming events
Nor-Shipping, Oslo, 6-9 June
Smart Maritime Network, Tokyo, 30 August
Smart Maritime Network, Copenhagen, 26-29 September
Smart Maritime Network, Dubai, 1 November
Smart Maritime Network, Singapore, 29 November

For further information please contact:
Alexandra Collins​
Marketing Manager, GTMaritime
+44 (0) 1925 818918
Alexandra.Collins@GTMaritime.com
www.GTMaritime.com
Amanda Buchan
Account Manager, JLA Media
+ 44 (0) 7487 802 818
amanda.buchan@j-l-a.com
www.j-l-a.com

GTMaritime launches Version 4 of GTMailPlus providing the highest level of cyber security in a rapidly evolving threat landscape.
GTMaritime, a leading provider of secure maritime data communication solutions, has announced the release of the further improved version of market leading product GTMailPlus. The new release specifically addresses the increase in cyber security and network stability needed as ship to shore integration becomes more seamless thanks to the advancements in LEO communications.
Jamie Jones, Operations Director explained how Version 4 is specifically designed and tested to work in the new era of satellite communications. Its advanced network switch ability allows reliable, secure, seamless email delivery whether using a LEO network, VSAT or low bandwidth connectivity to ensure users are operable when working in a hybrid scenario.
LEO Compatibility:
"LEO connectivity is a big step forward for the maritime industry," says Jamie Jones, GTMaritime, "however there will be times on a vessel's voyage where the primary connection is not available. Having difficulties sending and receiving email to a vessel during these times will have an adverse impact on vessel operations and so a product such as GTMailPlus becomes invaluable to ensuring this critical communication line is available 100% of the time". We have also seen a large demand for GTMailPlus to compliment shore side solutions such as Office365 which we fully integrate with and ensure it works in sub-optimal maritime conditions.
Enhanced Security:
GTMaritime understand that the rapidly changing maritime communication environment is opening up vessels to new cyber challenges. GTMailPlus continues to offer an enterprise grade security suite to provide robust protection including threats from zero day attacks.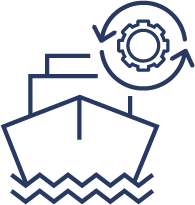 Simplified Installer:
GTMaritime have also simplified the installer and incorporated its software deployment platform GTDeploy Basic as standard. This allows their clients to easily manage all GTMaritime software installs and updates from the shore side free of charge.
Brand new WebMail Client:
The latest version of GTMailPlus also brings a brand new webmail client which contains a wealth of new features focusing on productivity including; an advanced WYSIWYG editor, enhanced message and folder management, improved search and sorting along with performance optimisations to improve the onboard user experience.
"All of this is available as standard , Jamie Jones added. "The continuous investment in our products, specifically in cyber security allows our customers to be assured that their communication is protected, and they can focus on their core business operations."
Safety4Sea interview Mike McNally on the challenges in the maritime industry
SAFETY4SEA recently interviewed Mike McNally, discussing the challenges facing the maritime industry along with how GTMaritime support and assist ship operators in meeting these challenges.
Below you can watch the full series of interviews discussing topics such as "What are the key actions that will make a step change in industry's performance during the era of Shipping 4.0?",
"what are the key challenges that the maritime industry is currently facing and how can you assist ship operators towards?" and much more.