Isolation at Sea
In these Covid-19 days of isolation and lockdown people are finding it hard to adapt and talk about it being a struggle because they cannot go to a bar or restaurant or socialise with friends or family. It's been 7 weeks now since the UK Government imposed lockdown and yet people have still managed to see friends and relatives from a distance. When I drop essentials off at my elderly mother's I still chat with her for 10 minutes across the garden.
In experiencing this isolation people can get an idea of what life is like on board a ship, transporting the goods we like to buy, whilst travelling around the world.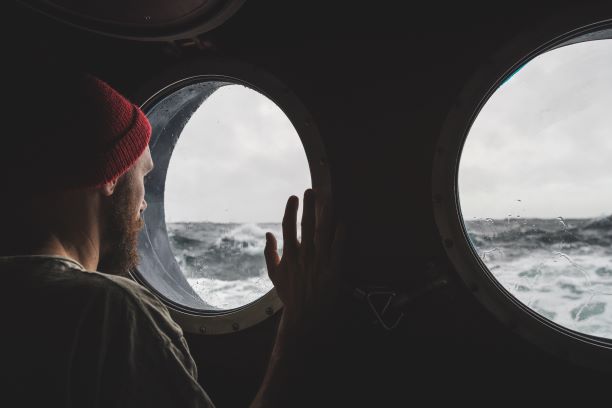 A crewman at sea during normal, non Covid-19 restriction times does not have the luxury of being able to see loved ones or friends over the garden fence for 10 minutes. They see their fellow shipmates during their shift and mealtimes but tend to sleep or remain in their cabins when off duty. Occasionally, whilst the ship is loading/discharging in port, they can get a few hours of change of scenery ashore, maybe to sample the local cuisine in a restaurant and see a famous landmark.
The modern seafarer is experiencing isolation simply to undertake their daily job, working hard to bring money back for their families. They are usually away for 4 months at a time and they work hard in the knowledge that at the end of their stint, they will be back with their loved ones. The thought of the reunion with the people they love gives them the hope and strength to carry on, get the job done and then go home.
Unfortunately due to the Covid-19 pandemic flights are grounded, more than two thirds of the world is restricting travel and ports are not accepting people traversing through. Crewmembers are unable to get home at the end of their time onboard ship. They cannot even go ashore for a few hours when the ship is loading/discharging, they must remain onboard in isolation.
Some ship managers are trying to boost the morale of crew stuck on board ships indefinitely beyond their contracts. To combat stress, anxiety and promote well-being, ship managers have introduced measures focused on extra activities such as games and competitions or having barbecues.
Most have allowed free calls home with increased broadband so that crew can keep in touch with loved ones. Access to helplines for counselling and advice and access to round-the-clock medical staff is also on offer.
Besides keeping active with some form of exercise, the crew welfare charity Iswan has also recommended quiet time, for prayer and meditation, inviting seafarers to draw on inner strength and faith. Limiting news consumption was also encouraged in the face of the invisible threat.
The CEO of Thome Group, Olav Nortun has said that extended time onboard will be a challenge. Fatigue risk is definitely there, and the company is carrying out regular health checks and running drills so that crews are able to manage the situation.
To keep the crew occupied and take their minds off the crisis, Thome have arranged different kinds of weekly activities with rewards at the end of it, such as photo competitions.
Thome have some 5,500 crew members presently at sea, 11% of which are now on overdue contracts. This will increase to 18% by the end of May.
Olav Norton also said that for now, a positive takeaway is that port delays and fewer inspections actually lessens the stresses faced by the crew.
V. Group's director for health and safety, Matt Dunlop, in a recent BIMCO webinar, said that crews understand the situation and are coping, although that could change in a few weeks time, if the contracts are extended further. Matt Dunlop went on the say that prolonged periods at sea significantly increases the mental well-being issues of seafarers and jeopardises the safety of the vessels they sail on.
"Governments need to adopt policies to allow movements of seafarers," he said, adding that progress is being made for an industry repatriation alliance, although it is just a concept at this stage.
Human Rights at Sea, a UK-based charity, said it has been receiving feedback from seafarers, with at least nine crew members overdue for relief who are fatigued, both mentally and physically, and under enormous psychological pressure to safely execute their shipboard responsibilities.
The common threads of concern besides mental exhaustion and safety on board, focuses around fears about being stranded and unable to get home to support their families, according to the statement. Depression may also be setting in for some. One seafarer, who was not identified, said that he had been on board for six months already, two months beyond his usual contract term.
Despite calls by the shipping industry to designate seafarers as key workers, exempt from travel restrictions during this global health crisis, no decision has yet been taken and there is no clear and consistent approach. Even within a country, rules can differ from state to state, posing immense challenges for logistics operations.
Even if seafarers can get to airports in their home countries, onward travel may be difficult. A spokesperson at the International Maritime Organization recently said that discussions regarding repatriation are ongoing. Its secretary-general Kitack Lim recently issued a statement in which he said the inability to resupply or repatriate crews concerned him greatly.
The IMO has appealed to governments to take a pragmatic approach. On the 1st May the International Chamber of Shipping and the International Transport Workers Federation encouraged all ships to sound their horn at 12:00 local time in a gesture of solidarity to recognise over 1.6 million seafarers across the world, the unsung heroes of global trade, who are keeping countries supplied with food, fuel and important supplies such as vital medical equipment not only through the COVID-19 pandemic, but every day.
Sadly as I live in land, I didn't hear it and, on reflection, neither did many millions of people whose livelihood and sometimes lives depend upon these seafarers putting in a shift and then being left onboard – in isolation.
Life goes on despite lockdown
GTMaritime are a very lucky company in many ways. About a year before the Covid-19 pandemic started we changed all the desktops in the company for laptops. Before that we had already moved our service into the cloud along with our back-office systems. So, unbeknown to us, we were very well prepared for social distancing. We already have several staff members that work from home, so the concept is nothing new to us. Very quickly we were able to switch from office to home working for all staff, in fact we actually switched to home working a week before lockdown as we felt the legislation should have been introduced much earlier.
Where GTMaritime are really lucky is that we have a great team that are very committed. We had no qualms about the decision to switch from office to home working. Having worked with them for so many years, we knew they were independent, dedicated and that they could work successfully in their home environment, and after 5 or 6  weeks of lockdown they have proved us right.
The business is working well, we have no issues from customers or suppliers, everyone is at the end of the phone when we call, doing their normal job whilst working around their homelife. I know it is not easy as children need to be fed, educated and entertained throughout the day, so our staff have worked out their own daily routines to suit their work / life requirements.
We are blessed with great, committed people and I am so proud of them. I want to thank them all for making these adjustments and coping in this unusual situation and terrible time.
Here's a brief insight into how two of our team have adapted to the current working environment.
Lee Penketh, Systems Engineer
Well, I am lucky enough to have a log cabin at the end of the garden where I can go and work as I would in the office. I am able to fulfil the same duties as I normally would thanks to all our services operating in the cloud. I speak throughout the day to colleagues via Microsoft teams. The family are home schooling in the house, mum has schoolwork prepped each day for the two children to get on with and the oldest daughter is connected to school also with Microsoft teams, speaking with her teachers and class mates. We all have breaks throughout the day to stretch our legs and say "Hello", perhaps play with the dog in the garden as the weather is so nice. When it comes to any third-party conference calls we have a red poster which I place in my cabin window, so the family know not to disturb me. It's to avoid any unexpected videobombing or awkward moments of them coming on my call asking for a snack or a biscuit!!
When not working we have been getting those long overdue DIY jobs done with the kids helping and then just playing family games with the kids favourite of "find three things" whereby my wife and I describe to them three objects and it's a race for the first child to bring all three correct objects to us, score being kept on a score board the kids made, the winner is in for a big prize at the end of the lockdown but as they are both doing great they will both get a prize, its more about keeping them entertained. We don't tell them when we are going to ask for the three things, we tend to spring it on them with a whistle so they have to stop and come wherever they are to join in. It's been really funny some of the objects we have had brought to us when playing. One object description was to find something white and fluffy, then expecting something like a pillow but was presented with the dog looking at us, as if saying: "what the hell is going on?" Needless to say when the dog hears the whistle now, he hides for fear of two kids charging towards him wanting to use him as an offering.
We are keeping in contact with family and friends via video calls, each Sunday afternoon we have a whole family video call with Aunties, Cousins, Grandparents and Great Grandparents, all catching up, finding out what everyone has been up to.
Also, our Finance Manager, Sam McDermott, pictured here in her home office has this to say:
As we are both working from home plus trying to do school work with Oliver and Grace we have had to install some extra desks! We always had the desk I'm working at but then we set up a desk in Oliver's room for Paul to work at. However, once the school closed, we removed the bed in the spare room and put up a new desk for Paul, so there has definitely been some changes in our house since mid-March. I'm glad we were able to do this though as it has kept our dining table free so that we can all have a change of scenery at mealtimes and feel like we are actually having a break.
My daily routine is to exercise between 6:15 and 6:45am as I cannot find time anywhere else in the day, then a few household chores before I start work at 7am. I work until 8:30 when I do breakfast and start some schoolwork with Oliver until 10am. I then work until around 5pm, making sure we all stop for lunch as a family and, fortunately, we have been able to do this in the garden lately which has been lovely. While we have been forced to stay at home, we have worked on our garden at weekends so are making the most of being in it while we can.
Oliver will usually continue with some schoolwork during the morning, so I try to be on-hand to help, although this is very difficult while I'm trying to work but we do what we can. Paul's job involves him being on lots of conference calls throughout the day which means he isn't able to be on-hand in the same way, but when he doesn't have these scheduled he will take over.
Oliver will then usually play all afternoon, mainly outside while it has been so nice, which allows me to work with fewer distractions in the afternoon.
At 5pm we usually take the kids out for a 5k ride on their bikes, and Paul and I will either run or walk with them, before we all come home for dinner and the usual evening routine.
For the first few weeks, I was logging back on in an evening due to the amount of distractions throughout the day, however we have tried to adapt and change routines between us to avoid this, as it felt as though at night I was going straight from my desk to bed, and then from my bed to my desk again in a morning which soon became very exhausting.
It's not ideal, but it's working. It's very stressful, but we are all safe and well!
These are just two examples of how our team are adapting to working from home, thank you again to all of them for their efforts during this time and I look forward to the day when we can all be back in the office, working together in the new normal, whatever form that takes.
Stay safe everyone.
Best regards
Rob Kenworthy
The GTMaritime story: Past, present and future
In this 20-minute video presentation, our CEO Robert Kenworthy chronicles the sweeping changes in the maritime communication landscape that have taken place during his career and how these trends culminated in the birth of GTMaritime. Drawing from key episodes during his time at sea in the 1970s, in the telecoms business in the 1980s, and setting up his own company in the 1990s, he sheds light on the core values and principles that have made GTMaritime what it is today and continue to guide the company's transition to the age of data.
Robert joined the merchant navy in 1975 as an 18-year-old cadet. He was soon sailing to every corner of the globe on bulk carriers and general cargo ships that were laden with all manner of cargo – anything from industrial machinery to beer and spirits.
His most treasured memory is of his first voyage to South Africa, when he was greeted by a magnificent sunrise over Table Mountain. "As so many have experienced, witnessing this spectacular vista is a truly humbling experience."
He recounts the equipment that was available to radio officers working in the merchant fleet in the late 1970s and how they made the most of the measly bandwidth to receive navigation warnings, to arrange crew changeovers, to plan port arrivals, to log fuel consumption, to seek medical advice in emergencies, and, perhaps most importantly for maintaining morale onboard, to get the latest football results.
Crew mostly stayed in touch with their families by post. Even after satellite phones started to arrive onboard, the exorbitant charges of making calls meant conversations were kept very short, almost telex like, even when matters of the heart needed discussion. Nevertheless, as the technology became more widespread, so the number of radio officers in the merchant fleet entered decline. "The irony of the situation was that the role was becoming redundant just as more electronics were coming onboard," Robert pointedly notes.
After leaving the merchant navy and coming ashore in the mid-1980s, Robert got his first taste of working for a telecommunications company catching the industry just as it was switching from analogue to digital. Yet, he could not escape the gravitational pull of the marine world for long. In 1994, he joined MariNet Systems, a start-up that pioneered email-at-sea by tethering 9600bps Motorola modems with Inmarsat A terminals. It was a primitive solution by contemporary standards, but it worked.
Later, when Marinet was bought out, Robert decided to go it alone, and set up his own business called Global Technology. Instead of focusing on hardware, he saw an opportunity for providing a simple-to-use subscription service for ship-shore email. He wryly remarks: "Today of course we would call it a cloud-based service, but the term was yet to be invented."
Since then Global Technology has turned into GTMaritime and the company has gone from strength to strength. Today it handles the email traffic for some 5,600 vessels – around one in every ten ships in the global fleet. On any single day, more than 380,000 messages pass through its servers.
Casting his gaze to the future, Robert notes that the growth in email traffic may be levelling off but adds that the amount of raw data being sent from to ship to shore is climbing exponentially. With the sector seemingly on the cusp of a dramatic transformation, he offers a glimpse of how GTMaritime is readying itself by developing new products and services that will ensure the global fleet will sail safely into the digital era.
It's Official! – Data is on the Increase (in case you didn't know)
Here at GTMaritime we have over 5,500 ships connecting daily into our systems from all over the world so providing a wealth of data that can be used to give a good assessment of the messaging communications situation in the maritime world.
As we all know – data is the new oil and so being able to see what has transpired over the last year allows me to peep into the crystal ball and assess the future trends with a modicum of accuracy.
This is indeed the topic being discussed at the moment in the maritime IT sector – Digitisation, Big Data and Data Analytics all provide quality information to help companies make better decisions in their business.
The following is our data from the last 2 years:
| | | |
| --- | --- | --- |
| | 2018 | 2019 |
| Number of Message per ship, per month | 1953 | 2049 |
| Amount of data per ship, per month in MB | 350 | 450 |
As can be seen at once, data usage is increasing, as are the number of messages to and from the ships. It's important to note that we are referring here to e-mail messaging and file transfer data, not IP crew browsing data, which is also seeing a huge increase independently of this.
Why could this be?
With ships having networks onboard and the airtime prices adjusting such that "all you can eat" data is more prevalent, there are more users onboard having access to communications. Not so long ago it was just the Captain that used the satellite communications.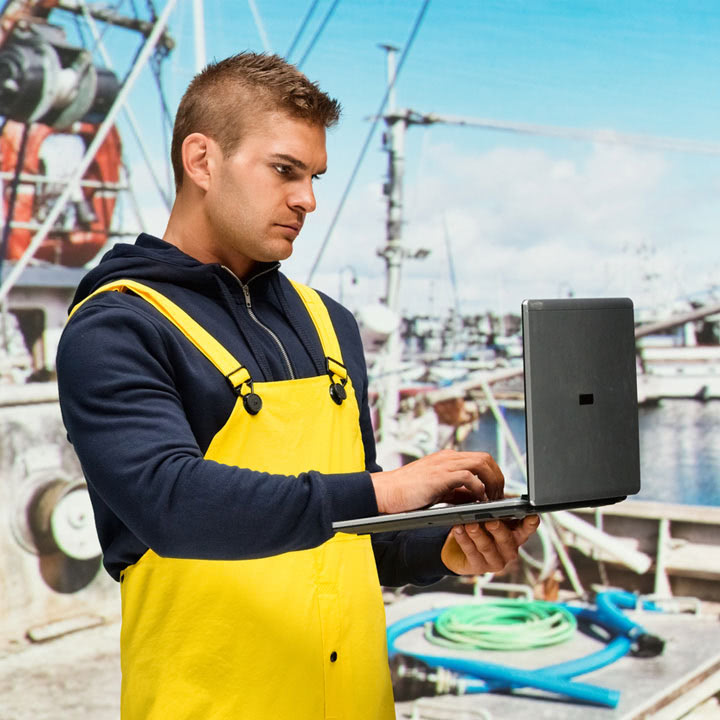 In the ship operators office, it used to be only key personnel were allowed to communicate with the ships. The link has now opened up to most of the office staff ashore and of course, third parties around the world, replying to messages from ship staff.
The relatively lower satellite cost scenario has been available to ship operators for some time now but it takes time to realise the efficiencies gained from a policy of more open communications. Hence why we are seeing a gradual increase in data usage.
Let's face it, in any other industry the communications between the shop floor and the office are well established and operate at maximum efficiency for that business. In the maritime industry one could regard the ship as the shop floor. Communications between the two have hitherto been minimal and so when a restriction is relaxed, it takes time for the two parties to adapt to the new operating procedure.
We are now seeing the ship and office make more use of the link between them and starting to realise the efficiencies they are gaining due to better communications.
Add to this the dat
a being transferred by the various OEM's onboard to keep an analysis check on their products. This improves efficiencies for both the ship owner and the OEM. On most modern ships there are thousands of sensors that detect changes to all aspects of the vessels performance and so good analysis coupled with comparisons to sister ships in similar sea states and conditions will produce quality information.
Efficiencies gained are in the areas of better servicing and maintenance of critical systems such as main engine and bridge equipment. Some of the efficiencies gained serve towards reducing fuel consumption which of course produce huge cost savings.
I read recently that one of our large supermarkets here in the UK can use the data they extract from their customers to determine when their customer is pregnant, before they actually know it themselves. This is achieved by studying the spending patterns of their female customers just prior to the purchase of a pregnancy test pack.
Scary!! I know but this illustrates how powerful quality data can be to any company.
As some of the affordable plans on the market for VSAT, FBB and Iridium are based on a set amount of data usage per month and as ships data usage continues to grow each year, so too will the satellite costs for the ship operator. In addition, the larger "all you can eat" data plans presently offer data speeds that are not in keeping with the amount of data being used, particularly when crew browsing and downloads are taken into account, so congestion is inevitable.
In the spirit of "doing things better" this year, GTMaritime we will be introducing a new product that has been designed from the ground up to deal with ships data communications over satellite. To offer efficiencies across the satellite link and so deal with this ever-increasing growth in data usage. It will allow the ships to enjoy a longer period of time on the data package they are presently paying for without the revolving circle being ever present whenever the ship's crew hits "Search" or "Send."
How it all began….
Robert Kenworthy, CEO, looks back at how GTMaritime started over 20 years ago.
"18 years old, I joined the Merchant Navy as a Deck Cadet with British & Commonwealth in 1975, sailing on old general cargo ships, fruit ships and bulk carriers all over the world. Some of the stories from these days at sea I will be putting into this blog, such as the time we carried a prize bull to South Africa or a battle tank to Kenya.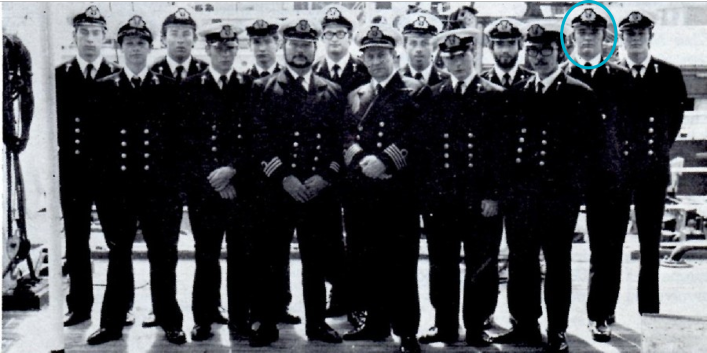 After my 4 year apprenticeship I qualified with a 2nd Mates certificate. I sailed on ships that had Radio Officers, as at that time we used HF radio to communicate.
Latterly I noticed some ships, as they passed us had large white domes above the bridge deck, which I soon discovered were the new satellite phones. Sadly, for the Radio Officers, as satellite communications became more common place across all ships, their numbers dropped off. It struck me how little we did communicate in those days when compared to today. The Captain was left to get on with his job, so apart from the daily noon report, he would report in every so often unless, of course, he had an issue.
I watched containerisation take hold and transform the industry entirely. Although it would seem that it was an overnight process, looking back, it took years and a tremendous amount of money, which my company didn't have. So, as ships declined so too did the crew, consequently, after 8 years, I found myself redundant.
 In the early 80's I entered the telecommunications industry joining Telephone Rentals PLC, initially as a salesman and then promoted to a Sales Account Manager. Excellent professional sales training provided me with a good foundation for this change of career. Telephone Rentals offered long term agreements, where providing quality service was essential to the customer relationship, so I learned valuable lessons in customer service and customer expectations. I joined the industry just in time for the liberalisation of BT's monopoly in 1984. The Telecommunications market exploded in the UK during the 80s, providing opportunities in abundance. I was the 6th person to join a start-up in 1984, in a little shop front office in central Manchester. By 1989 we had 506 staff with offices across the UK and in Europe. Having gained valuable experience in running a business particularly in times of exceptional growth, I left in 1990 to start my own telecommunications business but unfortunately the bubble had burst and the UK was in the depths of a recession. Companies were closing down or closing their doors to capital expenditure, so after 2 years, it was time to call it a day. However, I learnt a tremendous amount during that short time, a valuable experience that would stand me in good stead for when the opportunity to start afresh came along.
 Another career move, in 1994 I joined Marinet Systems, my first venture into the satellite communications industry. Marinet Systems were the pioneers in satellite e-mail using, at that time, the Inmarsat A terminals with Motorola Modems at 9600 bps. These were the early days of satellite data communications.
 We were selling our service outright, installing server systems in the ship operator's offices and installing the software onboard ships. At the time there was no Internet and so we used the SITA (airline network) to route between offices. Marinet Systems was soon purchased by a US company called Globe Wireless in the late 90s.
I knew that subscription business was a better way to offer a service to customers and it was time to make use of the internet. There was no better time for me to seize the opportunity to start Global Technology. The plan was to build a public hub and offer a satellite e-mail service on a monthly subscription basis, using the internet to transfer the messages to their final destination. One could say that we provided ships with a "Cloud" based e-mail service but at the time that terminology was not in use.
 That was over 20 years ago, and Global Technology has grown from strength to strength with 5,500+ ships now using our e-mail service all over the world, we process over 360,000 messages daily and boast over 12 months of continuous uptime.
 I like to think the various careers throughout my working life have each played a part, giving quality contribution to my experiences and so steering me to where we are today as a company. My time at sea has given me the empathy with my customer, it has helped me appreciate what is happening onboard ship as the Captain is trying to send his important messages, also helped me appreciate the importance of reliability in an e-mail service along with complete cyber security. My time in telecommunications taught me how important a quality service is to customers, how to support customers for a long-term relationship, along with giving me technical knowledge and of course the business knowledge to start my own company.
I like to think I was brought up with good values, respect for others, treat people the way you would like to be treated. I have a passion for this business and hope it rubs off on others I work with. These values I have instilled into the fabric of the business and the people appreciate and work within them. My business career has taught me that recruitment costs money and so it is vitally important to get the right person with the right attitude at the outset, then teach him or her the job and all it entails, then, most importantly, treat them well. As Richard Branson says: "If you look after your staff, they will look after your customers."
All these experiences have brought me to where I am today, with a successful satellite data communications service for shipping.
Here's to the next 20 years."