Robert Kenworthy, CEO, looks back at how GTMaritime started over 20 years ago.
"18 years old, I joined the Merchant Navy as a Deck Cadet with British & Commonwealth in 1975, sailing on old general cargo ships, fruit ships and bulk carriers all over the world. Some of the stories from these days at sea I will be putting into this blog, such as the time we carried a prize bull to South Africa or a battle tank to Kenya.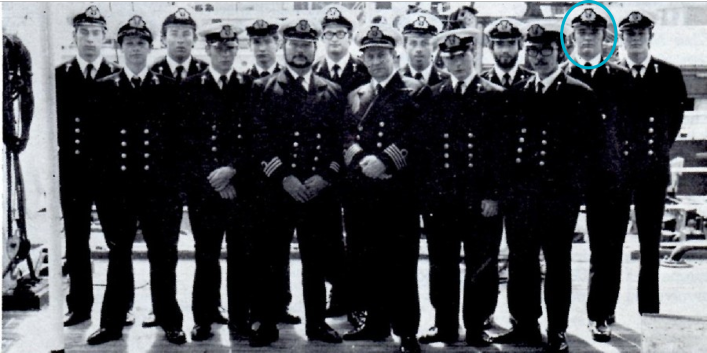 After my 4 year apprenticeship I qualified with a 2nd Mates certificate. I sailed on ships that had Radio Officers, as at that time we used HF radio to communicate.
Latterly I noticed some ships, as they passed us had large white domes above the bridge deck, which I soon discovered were the new satellite phones. Sadly, for the Radio Officers, as satellite communications became more common place across all ships, their numbers dropped off. It struck me how little we did communicate in those days when compared to today. The Captain was left to get on with his job, so apart from the daily noon report, he would report in every so often unless, of course, he had an issue.
I watched containerisation take hold and transform the industry entirely. Although it would seem that it was an overnight process, looking back, it took years and a tremendous amount of money, which my company didn't have. So, as ships declined so too did the crew, consequently, after 8 years, I found myself redundant.
 In the early 80's I entered the telecommunications industry joining Telephone Rentals PLC, initially as a salesman and then promoted to a Sales Account Manager. Excellent professional sales training provided me with a good foundation for this change of career. Telephone Rentals offered long term agreements, where providing quality service was essential to the customer relationship, so I learned valuable lessons in customer service and customer expectations. I joined the industry just in time for the liberalisation of BT's monopoly in 1984. The Telecommunications market exploded in the UK during the 80s, providing opportunities in abundance. I was the 6th person to join a start-up in 1984, in a little shop front office in central Manchester. By 1989 we had 506 staff with offices across the UK and in Europe. Having gained valuable experience in running a business particularly in times of exceptional growth, I left in 1990 to start my own telecommunications business but unfortunately the bubble had burst and the UK was in the depths of a recession. Companies were closing down or closing their doors to capital expenditure, so after 2 years, it was time to call it a day. However, I learnt a tremendous amount during that short time, a valuable experience that would stand me in good stead for when the opportunity to start afresh came along.
 Another career move, in 1994 I joined Marinet Systems, my first venture into the satellite communications industry. Marinet Systems were the pioneers in satellite e-mail using, at that time, the Inmarsat A terminals with Motorola Modems at 9600 bps. These were the early days of satellite data communications.
 We were selling our service outright, installing server systems in the ship operator's offices and installing the software onboard ships. At the time there was no Internet and so we used the SITA (airline network) to route between offices. Marinet Systems was soon purchased by a US company called Globe Wireless in the late 90s.
I knew that subscription business was a better way to offer a service to customers and it was time to make use of the internet. There was no better time for me to seize the opportunity to start Global Technology. The plan was to build a public hub and offer a satellite e-mail service on a monthly subscription basis, using the internet to transfer the messages to their final destination. One could say that we provided ships with a "Cloud" based e-mail service but at the time that terminology was not in use.
 That was over 20 years ago, and Global Technology has grown from strength to strength with 5,500+ ships now using our e-mail service all over the world, we process over 360,000 messages daily and boast over 12 months of continuous uptime.
 I like to think the various careers throughout my working life have each played a part, giving quality contribution to my experiences and so steering me to where we are today as a company. My time at sea has given me the empathy with my customer, it has helped me appreciate what is happening onboard ship as the Captain is trying to send his important messages, also helped me appreciate the importance of reliability in an e-mail service along with complete cyber security. My time in telecommunications taught me how important a quality service is to customers, how to support customers for a long-term relationship, along with giving me technical knowledge and of course the business knowledge to start my own company.
I like to think I was brought up with good values, respect for others, treat people the way you would like to be treated. I have a passion for this business and hope it rubs off on others I work with. These values I have instilled into the fabric of the business and the people appreciate and work within them. My business career has taught me that recruitment costs money and so it is vitally important to get the right person with the right attitude at the outset, then teach him or her the job and all it entails, then, most importantly, treat them well. As Richard Branson says: "If you look after your staff, they will look after your customers."
All these experiences have brought me to where I am today, with a successful satellite data communications service for shipping.
Here's to the next 20 years."