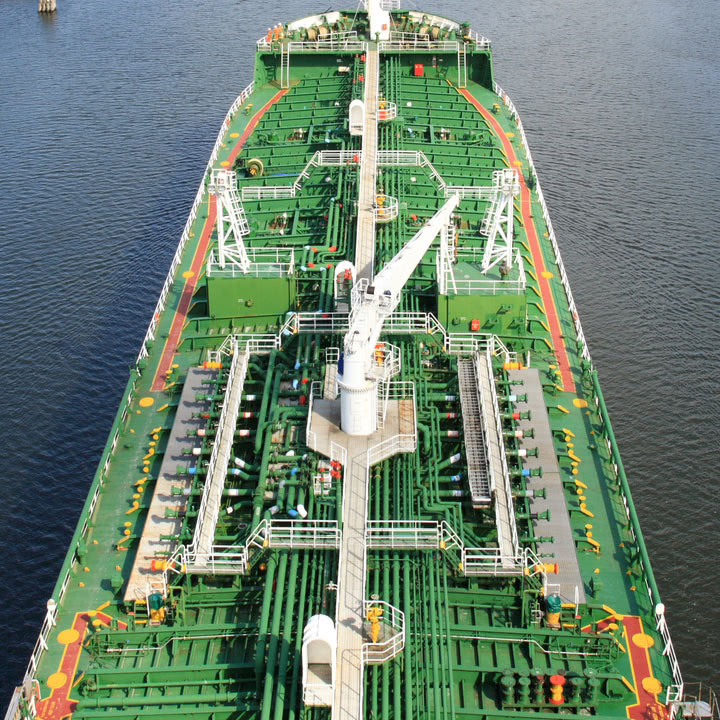 MOL Tankship Management is one of shipping's best-known managers of tanker tonnage, trusted to look after the operations of 60 ships on a global basis.
Its London-based subsidiary, MOL Tankship Europe is responsible for managing 23 vessels from 60,000dwt up to VLCC-size, with more tonnage due to be added by the end of 2016.
In challenging market conditions, the job of keeping its vessels connected around the clock falls to the company's dedicated Vessel IT Engineers.
"Our day to day role is assisting the master and the chief engineer when they come to us with questions and problems about their IT hardware and software," explains MOL's Jack Jenkins.
That could be a query on the vessel's administration systems or it could be ship-specific software such as programs for navigation, dry docking, loading or logging data about the vessel's performance.
"The requests we get are varied and many relate directly to the safety of the vessel. For example, if there is a problem with the satcoms we can assist in making sure the ship receives its chart corrections by creating a 'workaround' so the master will still have the navigation data he needs," he adds.
Key to keeping MOL's vessels in touch with shore is specialist maritime software provider GTMaritime. For more than a decade, its GTMail program has formed the backbone of MOL's vessel communications, a relationship that has been strengthened as the shipmanager has migrated onto the new GTMailPlus platform.
Jenkins says the decision to move onto the new platform was not taken lightly. MOL has a long and successful relationship with GTMaritime but the need for reliability meant they had to be sure the new system could deliver first time around.
"We originally chose GTMail because we wanted a maritime-specific solution that gave us the compression we needed to reduce the size of messages and save on data usage, as there was a lot more sensitivity about the cost of communications back then," Jenkins explains. GTMail proved itself a cost-effective solution on a per vessel basis and its compression and filtering functions mean that today email management is both simple and efficient.
Having been offered the opportunity to upgrade, MOL has migrated all but three ships onto the GTMail Plus platform and Jenkins says initial concerns about the potential risks of the transition were all satisfied.
Because upgrading a vessel while in service was considered too risky, MOL started the migration while vessels were in dry dock. The level of support provided by GTMaritime provided confidence and as the process has continued it has been able to undertake migrations while a ship is making a port call.
We were very happy with GTMail and thought very hard about whether to move to GTMailPlus, but the migration itself has been very easy. All that is required is that we contact the support team in advance and we have been able to do the whole thing within a couple of hours, with just some minor reconfiguration.

Jack Jenkins
With the new system onboard, MOL officers can enjoy an updated interface as well as significant functionality upgrades. These include a message preview option which downloads only the subject headers of an email and lets the user choose which emails to fully download.
This proved its worth recently on a vessel which suffered an outage of its primary satcoms and was working on its older, more expensive back-up system. Being able to examine and download only the important messages while leaving remainder until the main satcom system was back on line, represented a considerable cost saving.
Jenkins says MOL has seen an improvement in general performance, with faster transmission of emails from ship to shore and highly reliable levels of uptime. GTMailPlus, which is also easier to manage on the shoreside as a user can log in to a dashboard for a complete view of the fleet and drill down to inspect the email queue to the vessel. If appropriate, Jenkins can forward messages to a different recipient, such as the vessel superintendent.
MOL has configured filters on a ship-by-ship and fleet-wide basis to manage maximum message size, control whether or not crew can send attachments and block or allow messages from certain types of email address. Users can also check the outbound message queue and hold or delete messages if they decide priorities have changed.
The successful migration to GTMailPlus is the result of a strong working relationship between MOL and GTMaritime that has lasted over 12 years. In addition to providing products that meet the needs of users, GTMaritime has a reputation for high quality customer support.
Jenkins says that unlike some long term buyer-supplier relationships, the level of technical support from GTMaritime has been consistently good over time and MOL staff know they can get help when they need it.
During the migration process, Jenkins found himself in need of support over a week-end, in a different time zone. A phone call to GTMaritime saw a change quickly made and the problem resolved without having to wait until Monday.
Our relationship with GTMaritime means if we ever do run into any issues, we can email and expect a quick response, or if it's urgent we can phone them and get the issue resolved. Knowing we can trust in that level of support is a great help to our business.

Jack Jenkins
For more information about the new version of GTMail – GTMailPlus see here