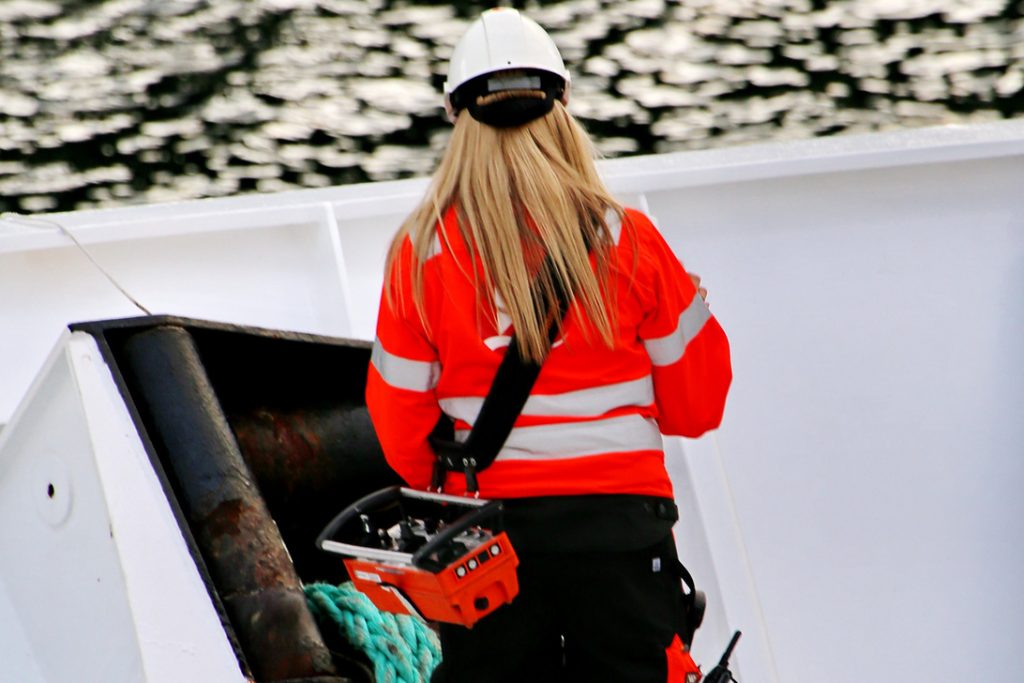 Training for seafarers, whether officers or ratings, has historically been a combination of theoretical and practical basic training undertaken in shore training establishments and sea time on vessels at sea. The skills level for different ranks is laid down in the STCW Convention and all appropriate training and examination will need to be satisfactorily completed for career progression.
As well as the basic training for seafarers that all seafarers undergo, ship operators will want to ensure that officers and crew are able to operate the equipment and systems on the ship in which they are serving. When the ship is new, it is normal for the supplier to offer some training to one or two personnel selected by the owner at a training facility. When equipment is retrofitted, some equipment makers will do the same but sometimes it is necessary for the shipowner to arrange training.
In addition to item specific training, seafarers need to take part in regular drills for things such as lifeboat launching or fire fighting. A well operated ship will also want their crews to take part in safety meetings and reinforce training using resources such as films and videos. Activities such as these are now written into the safety management systems of ship operators – or at least they should be.
Onboard training films using film and projectors have been around since the days of black and white films. Videotel, one of the most well-known producers of marine training material was founded in 1973 and is a good example of how training for seafarers is one area where shipping has fully embraced digitalisation.
The company has always made its own training for seafarers films which cover the whole gamut of work and equipment on board all ship types and has at times added an entertainment element to them using techniques such as gamifying some of their titles.
In common with similar organisations, Videotel's early method of operation was to supply a selection of films to ships and to change them at regular intervals to a new selection chosen by the ship or in accordance with a schedule established with the shipowner. The films – later on videotape and then on DVDs – were hired from Videotel and not owned by the ship.
In the mid-2000s, Videotel moved some of its title to an online service and launched an on demand service. It also moved into the computer-based training (CBT) sector with system specific ECDIS instructional training programmes. In 2014, it was acquired by KVH being seen as ideally suited to that company's VSAT and entertainment offerings.
CBT took off in the maritime sphere with several other service providers providing a wide range of subjects. In 2010 the Norwegian e-learning company Seagull launched an online version of its Seagull Training Administrator (STA) crew training software, offering offer access to Seagull's full computer-based onboard training library via the internet. The system gave shore staff the opportunity to check on STA training records and statistical reports, as well as opening up access to all 149 of Seagull's Computer Based Training (CBT) programmes from anywhere in the world via an internet connection and a compatible browser.
By 2018 Videotel had added VR to its training for seafarers services following a co-operation with OMS-VR. A year earlier it had adapted its training material for use on mobile phones and tablets extending the learning possibilities for users. The system incorporates HTML5 responsive-design capabilities, where content can rescale dynamically to any screen size or aspect ratio. Additional features include touch navigation, a multi-language capability allowing users to switch between languages, and an ECDIS-inspired 'night mode' that allows the user to select a darker theme.
In 2020 Videotel and Seagull were combined into the Ocean Technology Group after the former was sold by KVH. Having brought the two trainers together OTG established its Ocean Learning Platform an enterprise level maritime learning management system designed to unite shore based and onboard training for seafarers initiatives, online and across mobile devices. It delivers blended learning, assessment and competency management solutions that completely connect e-Learning and hands-on activity to improve knowledge, skills and behavioural development.
At its core is a new Ocean Learning Library bringing together materials from across the brands. Upgraded software-enabled features and the introduction of micro-learning and gamified content is aimed at further enhancing crew engagement encouraging the adoption of personalised and immersive learning sessions. Users can now combine information and content specific training for their companies and fleets, to complement the Ocean Learning Library. This is now further-enabled through an integrated rapid authoring tool, which allows companies to quickly create customised and trackable e-Learning content on subject areas of critical importance to the company.
Similarly, a pulse survey tool is now available that allows ship managers and crew managers to actively engage with their seafarers on a range of interactive applications such as employee experience, safety and operational matters and in-house campaigns. Survey data is then returned from the vessel and online sources providing insight and facilitating data-driven decision making.
Simulator training is an established instruction method in many industries and shipping is no exception. In response to a shortage of officers over the last two decades, greater use is being made of simulator training to allow more officers to qualify. High end simulators are produced by a number of specialists with Wärtsilä Voyage (previously Transas) and Kongsberg being the sector's major players but there are several others some of whom specialise in a particular vessel type or particular types of equipment such as engines, cranes and even lifeboat handling systems.
Simulators can vary from a simple desktop or laptop computer to full mission bridge simulators that recreate a ship's navigation bridge – in some cases identical to a specific ship for training crews before being posted to the actual ship. In shore-based training establishments, there is clearly no need for a communication element beyond the occasional use of multiple connected simulators in an exercise scenario that may also include a physical vessel at sea.
In a recent trend, simulator training is moving to take place at sea while crew are serving on the ship. At a basic level this corresponds to the CBT situation with a single screen and a keyboard being the input devices. Quite clearly it would be impractical to install a full mission simulator on a ship and the ship's own equipment is not intended for dual use although a ship with a dual ECDIS system could perhaps use one for training while the other is in use.
In the summer of 2021, SQLearn a Greece-based e-learning provider announced its Brave Dolphin project, aiming to create the ultimate VR training tool for maritime. Aiming to expand its training services, SQLearn is developing a Virtual Reality Application as a training tool for crew members, regarding emergencies that may occur on board.
Maritime safety risk cases are difficult to be simulated in a real environment but the Brave Dolphin VR training solution will mainly include simulations of real-case scenarios of crucial incidents. The scenarios selected to be simulated in a VR environment were identified by expert maritime consultants, who have conducted a Risk Analysis on crucial incidents that occur on board.
The Brave Dolphin project will include four VR training scenarios giving the chance to crew members to learn "How to test the Emergency Generator", handle a "Fire in the Engine Control Room" and "Enclosed space fire" as well get familiarised with the "Lifeboat Drill Procedure".
Upon the project's completion, Brave Dolphin will be further enriched with more scenarios and will be added to the Company's umbrella of services branded as "Dolphin Platforms", designed & developed by SQLearn, especially for maritime companies. These services are certified by the American Bureau of Shipping (ABS) according to ABS Standards for Certification of Maritime Education Facilities & Training Courses.