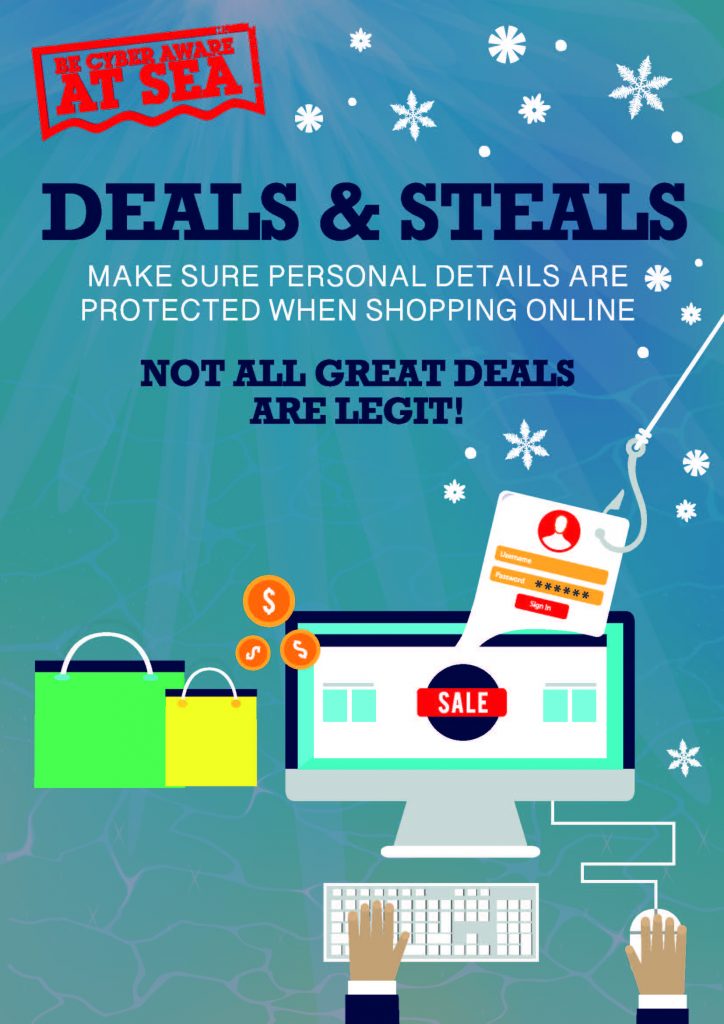 Shopping online & the risks involved
Shopping online makes life so much easier for everyone without having to set foot outside the house. During these Covid-19 pandemic times, online shopping has peaked to the extent that any high street shop that has not got an online presence will flounder.
Many people are taking on internet shopping for the first time and are enjoying the experience. More choice is available and there is a noticeable increase in the carrier/delivery business.
At sea, with a good internet link, it is now very easy for a seafarer to purchase anything and have it delivered to their home either for themselves, their wife or their sweetheart (or maybe both).
With 90% of what we buy being delivered by ship, we can now understand during this Covid-19 pandemic why shipping is still thriving. After a slight downturn in container freight rates at the start of the pandemic, the rates are now back up to the pre-Covid-19 rates. Despite high street shops being closed due to lockdown and less people leaving their homes to shop.
Hacking your Data
As more people join the online shopping phenomena and are therefore new to the experience, it becomes very easy and convenient for criminals to practise their villainous, wicked ways.
Often the scammers use a two-stage strategy which takes the victim completely off guard. A tiny incident may happen on the victims Facebook messenger such as a message from a friend that does not make sense. However, it's not from that friend, it's a carefully thought out plan by a shrewd thief who has infiltrated your friend's messenger and is attempting to enter your Facebook profile to steal your personal information.
They can find all sorts of information about you such as your mother's maiden name, where you have worked, the school you went to. They know you will use this information to make up a memorable password. That is how the human mind works. So, armed with this sensitive information they will use programs to apply stolen data in a flood of login attempts, called "credential stuffing."
A few days will pass and you have forgotten that little incident and then the thief will strike, taking substantial sums of money from you.
These scammers and fraudsters lurk in the digital realm with the aim of luring people and getting their hands-on personal and sensitive information. Using various smart methods, cybercriminals armed with your personal information now have numerous ways to steal your money.
These days, more than 90% of e-commerce sites' global login traffic comes from these attacks. The airline and consumer banking industries are also under siege, with about 60% of login attempts coming from criminals
Selling stolen personal data is a big business for hackers: Somewhere on the dark web, your e-mail address and a few passwords are probably for sale (hopefully, old ones). Cyber criminals buy troves of this information to try to login to websites where they can grab something valuable like cash, airline points, or merchandise.
Here is what you need to know about the various risks of online shopping:
· Identity Theft
The key to the Internet kingdom is "Credentials" – Username and password combinations.
One of the most common risks of online shopping is of Identity theft. Criminals get hold of your personal information and then use the information to make personal purchases.
· Credit Card Fraud
Credit card fraud is another common risk. Malicious users intercept the online stores at the payment portal. Customers are redirected to the malicious user's site instead of the legitimate payment gateway after making payment of the products. As the page looks identical to the gateway of the site they were shopping from, customers get confused. The malicious users then get their hands on the customers' credit card details and use it for themselves.
· Adware & Malware
While surfing social networking sites or online stores, ads and offers bombard the users' screens. These advertisements are not always genuine. They might look appealing and hard to ignore, but as soon a user clicks on these ads, the ad requires them to register and submit their personal details. And this way, scammers easily acquire the information. Sometimes, even good stores are hit with malware, so it spreads to all the users who visit the site
· Fake Online Stores
The Internet is full of fake online stores and pages that trick people into purchasing products. The truth is, there are no products, and they are not for delivery. These stores show great offers and lure people into buying their fake products. There have been various incidents where buyers never got what they ordered and spent money in the online transaction.
Recommendation – Stick to the top 500 Internet Retailers
Top Tips on How to Shop Online Safely
Before making any purchase online, consider the following.
1. Use the right card
Only use a credit card that has fraud protection to make your purchase. If you use a debit card and your information is compromised, the hacker will have direct access to your entire bank account.
You can also check to see if your bank offers temporary credit cards that you can set to expire, or a reloadable prepaid credit card.
Regardless, keep record of all your transactions, and check your statements for unfamiliar activity regularly.
Ways to Reduce Your Risk – Just remember the word "SCAM".
Be (S)tingy about giving out your personal information to others unless you have a reason to trust them, regardless of where you are.
(C)heck your financial information regularly and look for what should be there and what shouldn't.
(A)sk periodically for a copy of your credit report.
(M)aintain careful records of your banking and financial accounts.
2. Buy from trusted, secure sites only.
Major retailer sites are, for the most part, a safe bet.
Check for a lock symbol in the address bar on the websites like Amazon. This symbol indicates that a site is using a secure protocol for sharing information in an encrypted way. This way, anyone who is monitoring the customer traffic of the site, cannot see it. Customers' personal information remains safe. A good way to make sure that you are on a secure webpage is to check for 'https://' at the beginning of the URL. It means that the information you enter remains safe. The letter "s" means secure. Look for the letter "s" in "https"
Always order from reputable online stores which have a history of excellent customer service. See that they are following quality standards of customer satisfaction and security. Go through the customer comments and reviews before purchase.
If you navigate to an unfamiliar site to make a purchase, do an internet search with the site name and the word "security" to see what comes up.
3. Use a secure internet connection.
Avoid making purchases over public WiFi whenever possible – hackers can intercept your connection and access your information. If you must use public WiFi, use a VPN to connect.
4. Only submit the information you absolutely have to.
Never give any online retailer personal information – it is unnecessary and likely to be a scam. They need a name, credit card, and shipping address, but not much else.
5. Avoid using an important email account.
Consider setting up a separate email for all your online shopping accounts and product registrations. That way, if hackers ever obtain that email address from the site you bought from (an account they can try to phish or even breach), it will not do them much good.
6. Use strong passwords and enable two-factor authentication.
This is a best practice across the board. If you have trouble remembering passwords, consider a password manager like LastPass or DashLane.
Adopt a password management strategy whereby you change it regularly, ensuring it is long enough and varied enough to be difficult for special password detecting software to find it.
7. If it seems "too good to be true," it probably is.
You may receive emails about outrageous deals, or even see ads for them on your social media feeds. Approach all of these with great caution, as they could be (1) laced with malware, or (2) a scam.
If the price is too good to be true, it probably is. Research the third-party seller or website you are buying from. Don't be afraid to ask lots and lots of questions.
Finally, trust your gut.